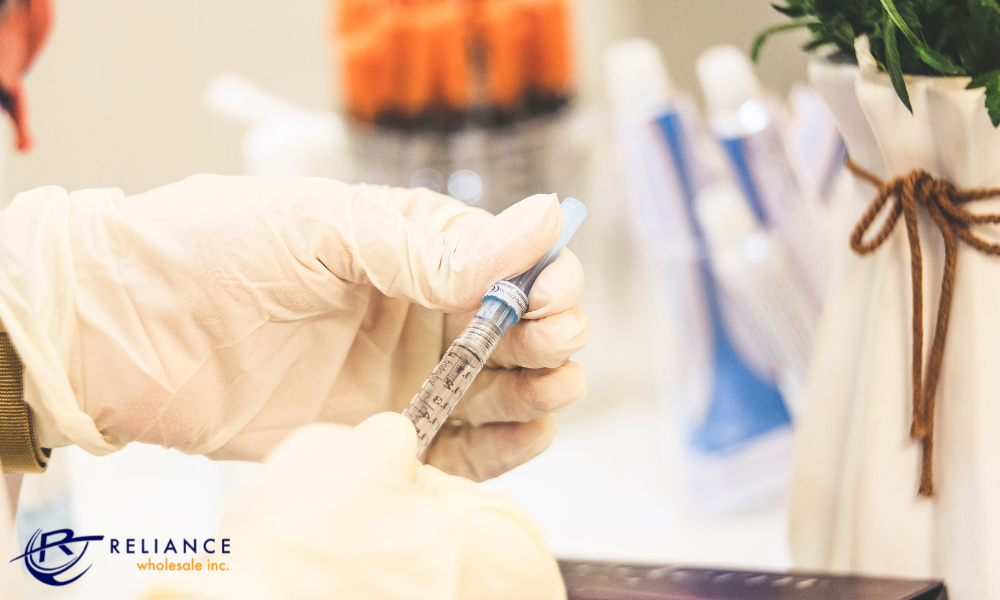 Acting as a vital link in the pharmaceutical supply chain, wholesale distributors ship essential products from manufacturers to pharmacies and other healthcare providers. They manage unique inventory demands to ensure that life-saving drugs are readily available for the patients who need them.
The Pharmaceutical Supply Chain at a Glance
Complex and intricate, the pharmaceutical supply chain is the course medical devices and prescription drugs take from manufacturers to healthcare providers, and ultimately to the patients.
Steps in the supply chain include:
Manufacturers

provide prescription drugs and medical devices.

Wholesale Distributors

transport products to healthcare providers.

Pharmacy or Healthcare Provider

stores products for patients.

Patients

access their needed medication.
This is a delicate process with high stakes and requires efficient distribution practices. When critical drugs are distributed incorrectly, the supply chain becomes ineffective and the healing processes of patients are disrupted. The company's reputation and public health are both negatively impacted.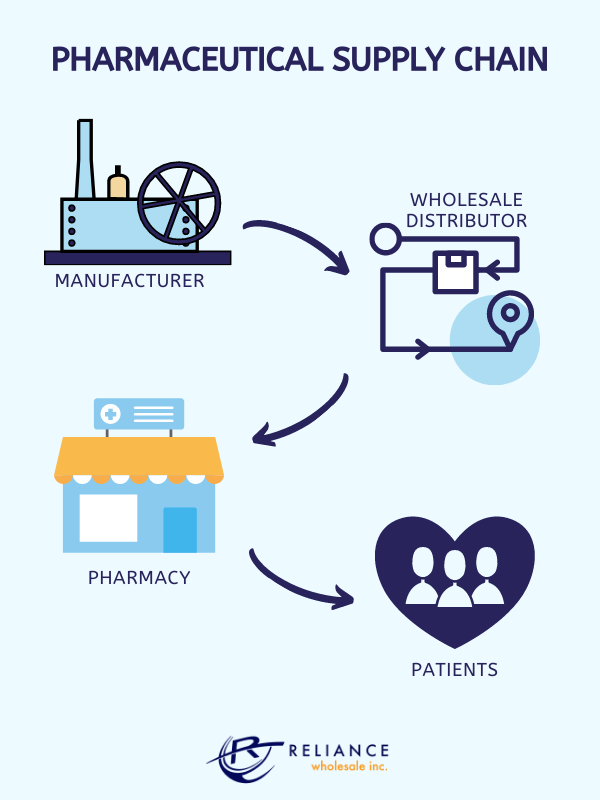 Reliance Wholesale's Role in the Supply Chain
At Reliance Wholesale, our team helps pharmacies and other healthcare providers across the U.S. navigate the healthcare landscape. We monitor supply and demand, noting critical drug shortages, to provide our clients with peace of mind so they can tend to patients in need without compromising the quality of service provided. This results in consistently stocked inventories and optimal patient care.
A partnership with Reliance Wholesale means:
Properly stored products

adhering to Current Good Manufacturing Practice (

CGMP

) regulations.

Cold chain management

for temperature-sensitive prescription drugs and products.

Freight consolidation and carrier management

to help reduce transportation costs.

FIFO/FEFO Inventory Control

aimed at providing efficient inventory rotation.

Third-party logistics (3PL) data and reporting

to improve order accuracy.
Reliance Wholesale also has a global understanding of the Drug Supply Chain Security Act (DSCSA) which allows us to alert clients of potentially dangerous drugs and protect U.S. consumers. This is why wholesale distributors are often referred to as the backbone of the U.S. healthcare ecosystem.
Pharmaceutical Distribution You Can Rely On
Playing an active role in the pharmaceutical supply chain, we provide cost-effective logistic solutions for pharmacies and healthcare providers without sacrificing the quality of products. Our end-to-end services go beyond simple pharmaceutical distribution practices, equipping clients with full product transparency on all orders. Reliance Wholesale offers risk and recall management, T3 documentation, transactional data storage for up to 6-years, and unmatched customer support 365 days a year.
We support pharmacies and healthcare providers by:
Acquiring the needed prescription

through our extensive network of suppliers.

Communicating in real-time

to provide clients with time-sensitive updates.

Shipping orders same day to limit the overall wait-time for patients in need.
Our innovative approach to pharmaceutical distribution safeguards the efficiencies and healthcare best practices. We pride ourselves on being a wholesale distributor and 3PL partner our clients can rely on.
You have our
promise
that we will not rest until you are completely satisfied.
Interested in fortifying your supply pipeline? Contact us today and speak with one of our logistics experts.
Share this story with your network!